Have the summer of your life
It begins right here and now. Are you ready? Hop on your bike or pull on your hiking boots, the time has come. Over secluded paths, root-covered bike trails, and beautiful Alpine meadows. What do you always have with you? The view of the rugged rockfaces of the Dolomites.
Take a wonderful Nordic walking tour, enjoy a good hike, or dare an easy via ferrata? Paragliding or horse riding? Immerse yourself in Ladin history and culture or fly along on Europe's longest zipline? As you're beginning to see, holidays at Hotel Antermoia are wonderfully varied, exciting, beautiful, and adventurous.
Hiking: The mountains are calling!
Our Hotel Antermoia is located at 1,515 metres above sea level and is the ideal starting point for walkers, hikers, and mountaineers. The mighty mountain giants and fragrant Alpine meadows are almost on our doorstep. The two nature parks, Fanes-Senes-Braies/Fanes-Sennes-Prags and Puez-Odle/Puez-Geisler, which are just a stone's throw away, are part of the Dolomites UNESCO World Heritage.
Get on your bike and into the mountains! As soon as the snow has melted, there's nothing holding mountain bikers back. Finally enjoy becoming one with your bike and nature again. Enthusiastically conquer the mountain trails. The perfect summer holiday is guaranteed.
Small region, big attractions
Val Badia/Gadertal is not only famous for its fantastic nature, but also for its unique culture. In summer and winter alike, you can look forward to plenty of opportunities to discover the customs and traditions of the Ladin people, which have shaped life in the Alpine valleys.
Our gift to you: the HOLIDAYPASS Premium
The HOLIDAYPASS Premium is the perfect ticket to explore South Tyrol and the region. It entitles you to unlimited use of public transport all year round, including regional trains throughout South Tyrol. You'll also receive numerous discounts in museums and can participate in various activity programmes free of charge. And the best part? We give you the HOLIDAYPASS Premium for free!
nature parks right on our doorstep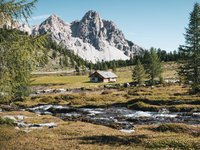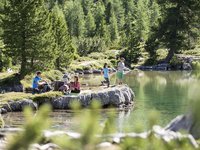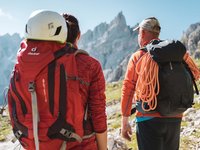 Dolomites UNESCO World Heritage