Motorcycle + hotel + Dolomites = endless love
If you're asking yourself what motorbiking looks like at our motorcycle hotel in the Dolomites, there's just one answer: amazing. Passes with curves and hairpin bends as far as the eye can see. A dream panorama that will leave you permanently awestruck. And the most beautiful pass roads in the Dolomites for motorbikes right on our doorstep. Find your corner of paradise here, at our hotel in Val Badia/Gadertal.
Pit stop for bikes and bikers
Walk or ride right into the courtyard of our motorcycle hotel in the Dolomites. Here with us, you can look forward to everything a biker's heart could desire: a garage for your motorbike, the Dolomites, accommodation with half board, and so much more. We have our own drying room for your motorcycle leathers that are still sweaty from all your biking fun, and a wash station for your bike. There's also a special cleaner for your helmet and visor. And of course, you can get maps and tips right here with us.
Motorcycle hotel in the Dolomites: your spot on the bends
It really does exist, the perfect starting point for motorbiking tours in South Tyrol: Hotel Antermoia, between Val Pusteria/Pustertal, Valle Isarco/Eisacktal, and Val Badia/Gadertal, in the midst of the Dolomites. The most wonderful pass roads of the Dolomites for motorbikes intersect here: Passo delle Erbe/Würzjoch, the Dolomites Road, Passo Sella/Sellajoch, and the tour through the Sexten Dolomites. This is your spot on the bends – welcome!
Tour suggestion: around Passo delle Erbe/Würzjoch
Length: approx. 170km
You start right outside our motorcycle hotel in the Dolomites and ride via Enneberg, Bruneck, Meransen, and Mühlbach to Brixen. From there, you follow the River Isarco/Eisack for a while, then return back to the hotel via Val di Funes/Villnöss, Lüsen, and Passo delle Erbe/Würzjoch. The historical town centres of Bruneck and Brixen are inviting places to take a break.
Tour suggestion: Passo Sella/Sellajoch
Length: approx. 280km
Sella Ronda, which was originally only famous as a circular ski tour on your winter holiday near Plan de Corones/Kronplatz, has in recent years been adapted by bikers for bikers. In the meantime, it has become a circular tour that is an essential part of any road book. From Hotel Antermoia, your motorcycle hotel in the Dolomites, ride over Passo Gardena/Grödner Joch into Valle Isarco/Eisacktal. Ride via Blumau and Welschnofen to Passo Costalunga/Karerpass and continue to Passo San Pellegrino. Then, ride past Lago di Alleghe Lake to Canazei and over Passo Sella/Sellajoch or Passo Pordoi/Pordoijoch back to Hotel Antermoia.
Want a spot of wellness for tired legs? No problem! After a day out in the fresh air, soothing warmth awaits you in our Finnish sauna or on the infrared lounger. It's relaxation time.
nature parks right on our doorstep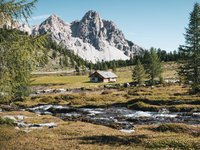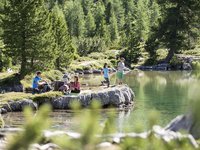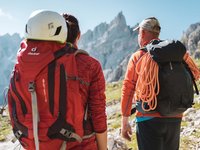 Dolomites UNESCO World Heritage