Biking and cycling
Nothing but biking on your mind? You're in the right place.
"That was the best biking holiday of my life," is something we've heard from many a guest with a beaming smile and rosy cheeks at Hotel Antermoia shortly before departure. Have you experienced that, too? No? Then you should get on the road to us here in Val Badia/Gadertal as fast as you can. You'll find: flowing single trails, sweat-inducing racing bike routes, and spectacular freeride tours. All right on our doorstep. All in the Dolomites.
Racing bikes: Show your legs no mercy!
With the road leading up to Passo delle Erbe/Würzjoch, our village Untermoj is a stage finish on Italy's most important bike race: the Giro d'Italia. That's no coincidence, as the challenging pass roads and dream panorama are truly unique in Val Badia/Gadertal! The Maratona dles Dolomites, the amateur bike race with more than 8,000 racing bike enthusiasts from all over the world, also leads right past our hotel door. On the Sella Ronda Bike Day, the Dolomite passes around the Sella Group are closed to traffic for an entire day. It's worth a visit!
(E-)biking, downhill, mountain biking – far out!
Get on your bike and into the mountains! As soon as the snow has melted, there's nothing to hold back mountain bikers, downhill fans, and e-bike lovers. Finally feel at one with the nature in the Dolomites again. Feel the passion behind every push of the pedals and take the mountain trails by storm! The perfect biking holiday is a sure thing at Hotel Antermoia, because nowhere else will you find so many natural trails with jumps, root-covered sections, obstacles, and drops.
Want a spot of wellness for tired legs? No problem! After a day out in the fresh air, soothing warmth awaits you in our Finnish sauna or on the infrared lounger. It's relaxation time.
nature parks right on our doorstep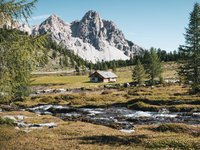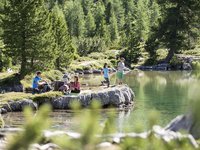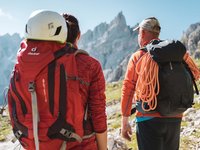 Dolomites UNESCO World Heritage