Lace up your hiking boots, it's time!
It's not surprising that the Dolomites are often described as the most beautiful mountains in the world. The view of the rugged rockfaces takes our breath away every day, too – even though their beauty is always right before our eyes at our hotel in Val Badia/Gadertal. We don't need to tell you that hiking is a dream here, as pictures say more than a thousand words!
Thousands of hiking tours – from easy to sweat-inducing – await you in Val Badia/Gadertal. Three days simply aren't enough! Maybe you'd better stay a little longer.
Do you prefer leisurely hikes? Great! Lifts will transport you up to lofty heights where you can take easy steps from hut to hut. A knödel dumpling here, an apple strudel there, and maybe a quick schnapps in between. Sounds good, doesn't it?
Sporty summiteers are rewarded in Puez-Odle/Puez-Geisler Nature Park and the rest of the Dolomites. Rugged rockfaces and piles of pale stones nestled between green Alpine pastures – a photo backdrop without compare! Hours of tours, routes far away from civilisation, and summit climbs to dizzying heights beckon, such as Piz Boè at 3,152 metres or Sasso Putia/Peitlerkofel at 2,875 metres.
Want a spot of wellness for tired legs? No problem! After a day out in the fresh air, soothing warmth awaits you in our Finnish sauna or on the infrared lounger. It's relaxation time.
nature parks right on our doorstep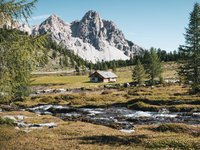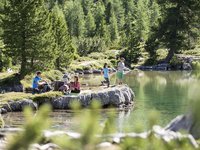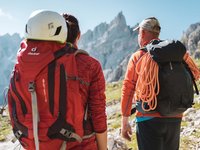 Dolomites UNESCO World Heritage