Real experiences – close enough to touch!
We'll show you the most wonderful tours, tell you about the best events, and give you tips on the hottest highlights in the region. What are you waiting for – experience South Tyrol and the Dolomites!
(Ladin) culture and customs
South Tyrol's side valleys, like Val Badia/Gadertal, remained almost untouched by the outside world for centuries. In winter, they were often completely cut off and could no longer be reached at all. In this way, stories, customs, and traditions were passed down from generation to generation. Especially in the mountain villages, these rituals have proudly been kept alive to this day. There are the wonderful folk costumes, the Sacred Heart fires on the mountains, the carved wooden masks for Carnival, or the traditional village festivals. But it would be best to see the colourful variety of traditions and customs with your own eyes and immerse yourself in the world of the inhabitants of the Dolomites.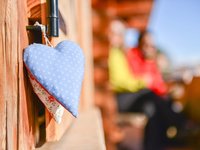 nature parks right on our doorstep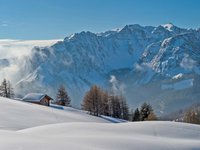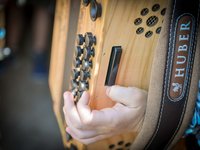 Dolomites UNESCO World Heritage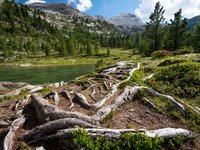 Museum Ladin Ciastel de Tor
In the Ladin folk museum at Thurn Castle, you'll learn about the culture of the over 30,000 Ladins. Absolutely worth a visit!
Val dl'Ert – sculpture park
The Art Valley, or "Val dl'Ert", is designed to be a work in progress: The collection is expanded after each edition of the SMACH art competition. Guided tours through the park begin at Museum Ladin Ciastel de Tor.
Messner Mountain Museum Corones
On the summit plateau of Plan de Corones/Kronplatz stands one of Reinhold Messner's museums, where you can learn about the history of traditional mountaineering. The museum building by architect Zaha Hadid is unmistakeable!
Fanes-Senes-Braies/Fanes-Sennes-Prags Nature Park visitor centre
At the nature park visitor centre in St. Vigil in Enneberg, dive into the secrets of the protected area and learn all about its flora, fauna, and history.
Puez-Odle/Puez-Geisler Nature Park visitor centre
Puez-Odle/Puez-Geisler Nature Park visitor centre in St. Magdalena in Val di Funes/Villnöss gives visitors deeper insight into the nature of the protected area and invites you to linger. (And its architecture is also worth a look!)
The Lumen Museum is located at the summit of Plan de Corones/Kronplatz. Over four floors and 1,800m2, you'll discover all about the history of mountain photography and the art of mountain photographers from around the globe.
Our gift to you: the HOLIDAYPASS Premium
The HOLIDAYPASS Premium is the perfect ticket to explore South Tyrol and the region. It entitles you to unlimited use of public transport all year round, including regional trains throughout South Tyrol. You'll also receive numerous discounts in museums and can participate in various activity programmes free of charge. And the best part? We give you the HOLIDAYPASS Premium for free!
1 region, 3 languages: a mini dictionary
Bun de | Buongiorno | Guten Tag (Hello/good day)
Bun domisdé | Buon pomeriggio | Schönen Nachmittag (Good afternoon)
Buna sёra, buna nöt | Buonasera, buonanotte | Guten Abend, gute Nacht (Good evening, good night)
A s'odёi | Arrivederci | Auf Wiedersehen (Good bye)
Dilan | Grazie | Danke (Thank you)
Co as pa innom? | Come ti chiami? | Wie heißt du? (What's your name?)
Co vara pa? | Come stai? | Wie geht es dir? (How are you?)
Ara va bun | Sto bene | Mir geht es gut. (I'm well)